Ultimate Guide to Dissertation Planning for Newbies
Writing a dissertation is like going to battle. Dissertation writing often evokes fear in students and requires meticulous planning to emerge a victor. As such, approaching your dissertation without mastery of various elements may trigger tons of stress and contribute to the refusal of your thesis defence.
This article will supply you with the armour necessary for your dissertation. These professional tips provided by DissertationTeam service experts will supplement your dissertation writing efforts.
How long is a dissertation?
The dissertation word count varies depending on the level of study, faculty guidelines, and the complexity of your topic. A standard dissertation ranges between 50 pages for a bachelor's and master's thesis and 160 pages for a doctoral thesis.
We, however, recommend that you consult your tutor and the faculty guidelines to determine the ideal word count for your dissertation.
Dissertation planning
Owing to the fear inspired by the dissertation, students often find themselves procrastinating and thus address their thesis a few days before the due date. This often causes students to rush through the research and writing phases, resulting in shoddy papers that are frowned upon by your examining panel.
Good time management is thus crucial when writing your dissertation. However, you should select your topic first, to gain a better scope of the writing process and determine the portions that require the most time.
How to choose a dissertation topic
The following steps should come in handy to make an informed choice in your dissertation topic.
Consult the requirements provided
When starting on your paper, analyse the instructions provided by your tutor and understand the general idea provided for analysis. Also, check the prescribed word count, the referencing style, and font size to use in your paper.
Select a general topic
After this, select a general idea suggested by the research question and consider what you've encountered regarding the topic within the course of the study. For instance, your general idea may be the impact of colonization on African nations.
Here, there are multiple perspectives from which you may analyse the question. These angles range from the political impacts to the impacts on education and religion. It would be best to jot down various ideas you've encountered on the topic for guidance when selecting a specific topic.
Research the relevant materials for your topic
After you've understood the confines of the general question, scour various databases for primary and secondary resources relating to your topic. Determine the idea that can be exhausted with the available materials and ensure that your topic has not been analysed by multiple scholars.
Narrow your topic to a specific idea
Next, select a specific topic that can be exhausted with the available resources and within the provided word count. An example of a specific area is the impact of colonization on African religion. This topic allows you to analyse a specific area thus making it manageable within a small word count.
Prepare an outline
After research, make an outline describing the content for each chapter. The outline will help you gauge the completeness of your argument and to view your argument's relevance to the research question.
The outline should help you connect various ideas in your work and build up towards your conclusion.
Consult your tutor
After outlining, share your work with your tutor. The tutor will help you determine if you are on track and offer you meaningful tips to ensure the completeness of your argument.
Organizing your dissertation timeline
After making your thesis outline, you can quickly divide your time to cater to various portions of your paper. The process may be divided into larger sections including research, drafting, writing, and editing.
Divide the steps into smaller sections to properly plan your schedule and gauge whether you are on track with your paper. For instance, you can divide research into research for primary sources and research for secondary sources.
Be keen to allocate ample time for each section of your paper and ensure to commit to your schedule.
Tips for planning your dissertation
Employ colour coding to easily track your progress and to allow your tutor to gauge the feasibility of your schedule.
Select a topic you are passionate about as this will offer you the impetus to handle your paper compared to a less interesting topic.
Map your ideas in an outline to ensure a logical flow of your paper and to gauge various sections that require further research
Update your dissertation timeline every week to gauge whether you are on track with the schedule and make necessary adjustments to accommodate for emergencies.
Stary working on your dissertation early to have ample time for each step, ensuring a quality paper without sacrificing your mental well-being.
Dissertation plan template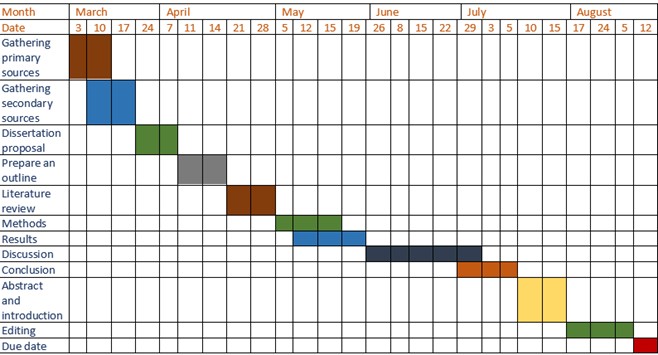 How to structure a dissertation
The basic dissertation structure depends on the guidelines of your faculty. However, most institutions recommend a format with: the title page, acknowledgments, the introduction, a literature review section, the methodology, a results section, discussion, conclusion, tables, figures, and references.
Final take
Planning a dissertation is crucial for a smooth dissertation writing experience. This guide should come in handy to keep you on track with your dissertation and to help you prepare a detailed plan. Feel free to engage our experts for instant guidance on various portions of your paper, thus ensuring success in your thesis.